Please join us at the 'Single Payer Picnic' for an afternoon in the park!
Date: Saturday, July 22nd, 2023
Time: 12pm-4pm
Location: Hazel Dell Community Park - 2300 Northeast 68th Street Vancouver, WA 98665
What to bring:
Picnic blanket and/or chair (picnic tables are limited)
Pack your own lunch (bring extra if you can afford to share)
Dress for the weather (event is happening rain or shine)
New or unused school supplies to donate (this is a mutual aid action**)
**Mutual Aid Action: pens, pencils, markers, crayons, colored pencils, paper, notebooks, spirals, folders, binder separators, binders, rulers, protractors, etc
What's provided:
Family friendly games and activities
Light refreshments
Guest speakers
Info about Hazel Dell Community Park:
Playgrounds onsite
Handicap accessibility
Restrooms onsite
Park Rules:
No weapons
No alcohol
No drugs
No bigotry
We are striving to make this picnic as inclusive as possible. If you or someone you know is available to volunteer the day of to interpret in Spanish or American Sign Language (ASL), please email: [email protected]
Also, if you are an individual, group, or organization interested in helping plan this picnic, or you would like to volunteer to help the day of, please do not hesitate to reach out: [email protected]
There will be more detailed information about this upcoming event over the next few weeks, so stay tuned!
Thank you!
Donations / Donaciones: https://www.givesendgo.com/GA9PE
Por favor acompáñanos en "pícnic de pago único" para una tarde en el parque!
Fecha: Sábado, 22 Julio, 2023
Hora: 12pm-4pm
Locación: Parque de la Comunidad de Hazel Dell (2300 Northeast 68th Street Vancouver, WA 98665)
Que traer:
Cubierta de campo y/o silla (mesas de pícnic están limitadas)
Su propio almuerzo (traer extra para compartir, si se puede)
Vestido extra para mal tiempo (cualquier tiempo, el evento pasará)
Utiles escolares nuevos o sin usar para donar (está es una acción de ayuda mutua**)
**Acción de Ayuda Mutua: lapiceros, lápices, marcadores, lápices de colores, papel, libretas, carpetas, reglas, etc
Que será ofrecido gratis:
Juegos y actividades para toda la familia
Bocadillos y refrescos
Oradores invitados
Información acerca del Parque Comunitario de Hazel Dell:
Parque de juegos en el sitio
Accesibilidad para discapacitados
Baños en el lugar
Reglas del Parque:
No armas
No alcohol
No drogas
No fanatismo
Estamos esforzándonos para hacer este pícnic tan inclusivo como es posible. Si tú o alguien que conozcas está disponible a ser voluntario para interpretar en español o lenguaje de señas americana (ASL) el día del evento favor mandar un correo a: [email protected]
También, si tú eres un individuo, grupo, u organización interesada en ayudar a planear este pícnic, o quieres ser voluntario el día del evento, favor no dudes en contactar: [email protected]
Habrá más información detallada acerca de este próximo evento en las siguientes semanas , estate al pendiente.
Gracias!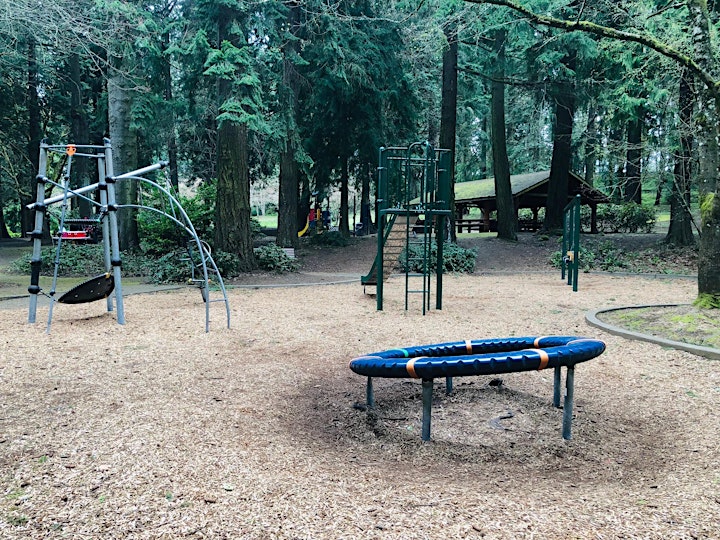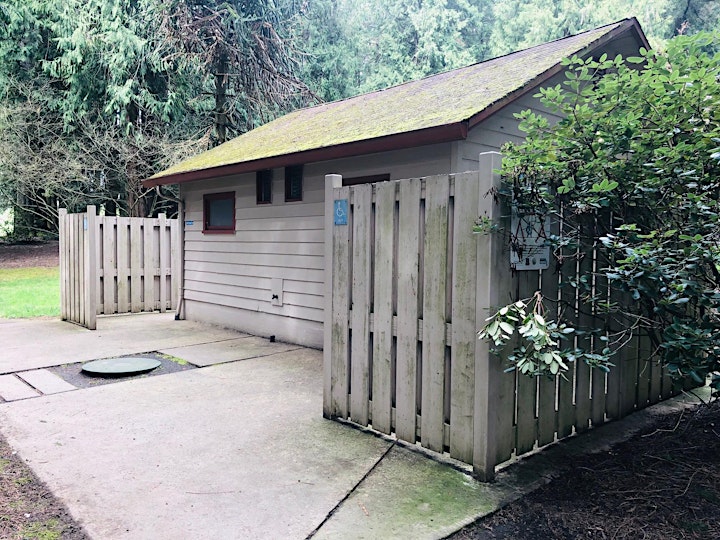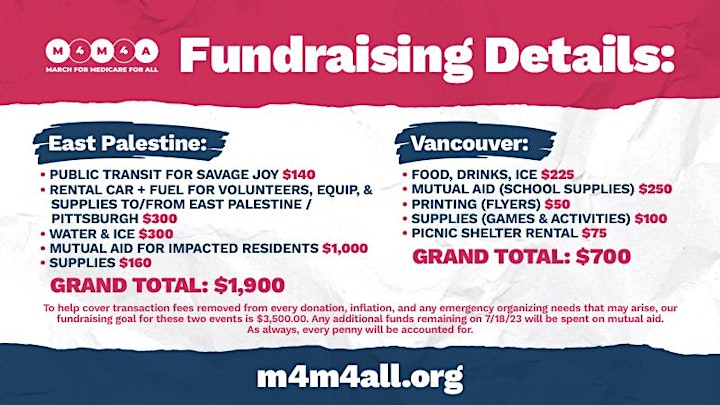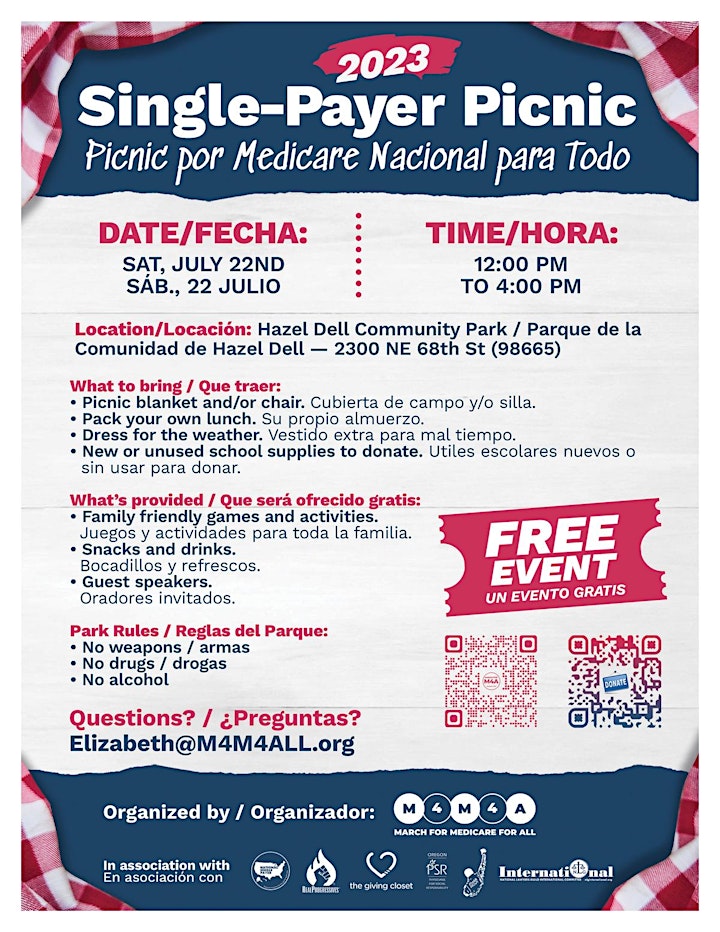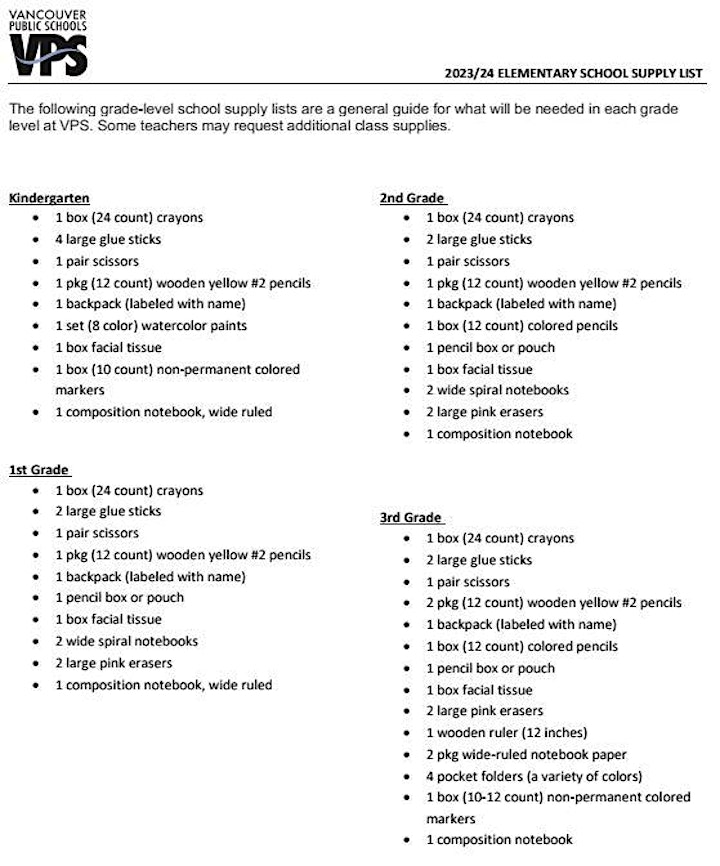 WHEN
July 22, 2023 at 12:00pm - 4pm